Blog
Fish 419's New Sunglasses Styles
by Craig Closs on Aug 30, 2023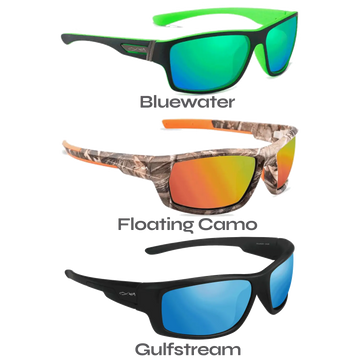 Are you ready to take your style and eye protection to the next level? Look no further than the new Fish 419 Polarized Sunglasses models. These sunglasses are not just your ordinary eyewear – they are a game-changer. With their innovative features and stylish designs, they are the perfect accessory for any outdoor enthusiast.
What makes the Fish 419 Polarized Sunglasses models so special?
These sunglasses are designed with the latest technology to provide you with the ultimate visual experience. The polarized lenses reduce glare and enhance clarity, allowing you to see the world in vivid detail. Whether you're fishing, hiking, or simply enjoying a day at the beach, these sunglasses will protect your eyes from harmful UV rays and ensure optimal visibility.
Discover the new models
1. The Gulfstream: Dive into style with the New Gulfstream Floating Polarized HD sunglasses model. Its sleek design and vibrant colors will make you stand out from the crowd. The Floating technology helps ensure you don't have to worry about losing your new favorite sunglasses overboard! Whether you're on a tropical vacation or exploring the depths of the ocean, these sunglasses will keep you looking cool and protected.
2. The Bluewater: If you're always on the go, the Bluewater model is perfect for you. Its lightweight frame and durable construction make it ideal for outdoor activities. With larger coverage than our Sport model, it satisfies even the most demanding fishermen while providing 100% UV protection. Whether you're on day 1 of a tournament, deep sea fishing, or spending a day at the beach, these sunglasses will stay securely on your face, providing you with the comfort and protection you need.
3. The Floating Camo: For those who love to explore new horizons, the New Floating Camo model is a must-have. Its wraparound design and wide lenses offer maximum coverage and protection. This new frame will float if dropped in the river and offer Camo for the tree stand.  Whether you're hunting in the mountains or fising in the lake, these sunglasses will shield your eyes from the elements.
Why choose Fish 419 Polarized Sunglasses?
1. Unparalleled quality: Fish 419 is committed to providing the highest quality eyewear. Each pair of sunglasses is crafted with precision and attention to detail, ensuring long-lasting performance.
2. Style and versatility: With a range of models and colors to choose from, you can find the perfect pair of sunglasses to match your personal style. Whether you prefer a classic look or a bold statement, Fish 419 has something for everyone.
3. Protection you can trust: Your eyes deserve the best protection, and that's exactly what Fish 419 Polarized Sunglasses provide. The polarized lenses block harmful UV rays and reduce glare, keeping your eyes safe and comfortable in any environment.
Upgrade your eyewear game today
Don't settle for ordinary sunglasses when you can have the extraordinary. The new Fish 419 Polarized Sunglasses models are the epitome of style, performance, and protection. Experience the difference for yourself and elevate your outdoor adventures to new heights. Get your pair today and see the world in a whole new light!